19 Oct 2012
Daniel Borkmann wins VDI award for his Master's thesis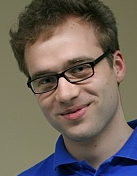 We are happy to announce that Daniel Borkmann who is part of the EPiCS team at ETH Zurich, has been awarded the 1. Förderpreis Award by the Association of Germany Engineers (VDI) for his Master's thesis Lightweight Autonomic Network Architecture. Daniel's Master's Thesis has been submitted to the Leipzig University of Applied Sciences and was executed in cooperation with ETH Zurich as part of the EPiCS project. The implementation of an adaptive networking stack that has been developed as part of his thesis is the foundation of the self-aware networking and protocol graph architecture in EPiCS.
We congratulate Daniel on this great success and recognition of his work!